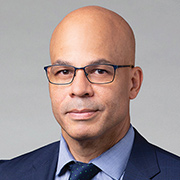 Darwin Conner
US Chief Diversity, Equity & Inclusion Officer
Eversheds Sutherland Welcomes Darwin Conner as New US Chief Diversity, Equity & Inclusion Officer
NEW YORK—Eversheds Sutherland is pleased to announce that Darwin Conner has joined the firm as US Chief Diversity, Equity & Inclusion (DEI) Officer, resident in the New York office. Mr. Conner will oversee the continuation, further development and implementation of initiatives and programs that champion Eversheds Sutherland's commitment to fostering inclusivity and equity at every level and in every function, both within the firm – including recruiting, professional development, public service and client and practice development – and beyond. In this role, Mr. Conner will work in tandem with Tax and US DEI Partner Vanessa A. Scott on internal and external programs that build on and leverage Eversheds Sutherland's already robust DEI platform.
Mr. Conner brings a unique perspective to his new role having practiced corporate finance law for more than 20 years, most recently as a partner at Sullivan & Worcester, LLP, and at Winston & Strawn, LLP, before that. In addition to his practice, Mr. Conner played an integral role in developing antiracist frameworks at his respective law firms and subsequently decided to return to school to obtain a Masters in Diversity and Inclusion Leadership from Tufts University.
"We are incredibly fortunate to have Darwin join Eversheds Sutherland. Not only is our DEI program important to our firm internally, it is also integral to our core value of helping our communities to thrive," said Mark D. Wasserman, Co-CEO of Eversheds Sutherland. "Our clients will benefit from Darwin's background as a practicing lawyer who understands how to integrate DEI programs into top flight client service. We have long had a commitment to improving diversity, inclusion and equity at our firm and in the legal sector, but if the last year and a half has shown us anything, it is that there is still a tremendous amount of work to do. Under Darwin's leadership, I am confident Eversheds Sutherland will be an industry leader in effecting profound, lasting change in equity and inclusivity."
"I am very proud of some of our recent DEI milestones, including being a founding firm of the Move the Needle Fund and receiving Mansfield certification multiple years in a row," said Ms. Scott. "I am excited to welcome Darwin to our team and to work alongside him as he builds on the work we have done and elevates our DEI strategy moving forward."
As mentioned, Mr. Conner was most recently a corporate finance partner at Sullivan & Worcester, LLP, and at Winston & Strawn, LLP. He has extensive experience shaping and managing DEI initiatives across the legal industry. Most recently, he served on the Executive Council of the Leadership Council on Legal Diversity (LCLD) and as chair of the DEI Committee and member of the Hiring Committee at Sullivan & Worcester, where he guided the firm's strategic DEI efforts. Mr. Conner will complete his M.A. in Diversity and Inclusion Leadership from Tufts University later this year; he also holds a J.D. from Fordham University and a B.A. from Carleton College.
About Eversheds Sutherland
As a global top 10 law practice, Eversheds Sutherland provides legal services to a global client base ranging from small and mid-sized businesses to the largest multinationals, acting for 70 of the Fortune 100, 61 of the FTSE 100 and 128 of the Fortune 200.
With more than 3,000 lawyers, Eversheds Sutherland operates in 74 offices in 35 jurisdictions across Africa, Asia, Europe, the Middle East and the United States. In addition, a network of more than 200 related law firms, including formalized alliances in Latin America, Asia Pacific and Africa, provide support around the globe.
Eversheds Sutherland provides the full range of legal services, including corporate and M&A; dispute resolution and litigation; energy and infrastructure; finance; human capital and labor law; intellectual property; real estate and construction; and tax.
Eversheds Sutherland is a global legal practice and comprises two separate legal entities: Eversheds Sutherland (International) LLP (headquartered in the UK) and Eversheds Sutherland (US) LLP (headquartered in the US), and their respective controlled, managed, affiliated and member firms. The use of the name Eversheds Sutherland is for description purposes only and does not imply that the member firms or their controlled, managed or affiliated entities are in a partnership or are part of a global LLP. For more information, visit eversheds-sutherland.com.